Classes Where You Learn to Paint While You Drink Wine!
Posted on by admin
Originally published on The Huffington Post:
CONTRIBUTOR
05/11/2017 06:35 pm ET
Jeremy Alexander, ContributorEntrepreneur. Creator. Nice Guy.
Classes Where You Learn to Paint While You Drink Wine!
05/11/2017 06:35 pm ET
THE FOLLOWING IS A ROUGH TRANSCRIPT OF THE VIDEO ABOVE
Hey there guys! Jeremy here and welcome to another exciting Shark Tank Review!
Now…this one will be a bit different. I feel like I've been saying that a lot lately on these shows… but I am actually covering this business BEFORE they go into the Tank.
Well…technically they have already been in the tank…
It was probably SEVERAL months ago…
What I mean is their episode has not aired yet…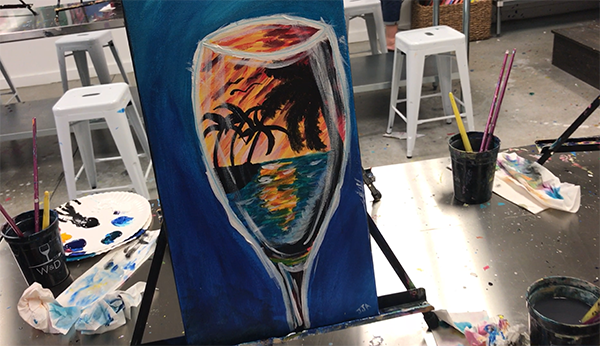 But it will be airing this Friday at 9PM Eastern Standard Time on ABC and they contacted me recently and invited me out to one of their locations here in the Myrtle Beach area so I could let you guys know all about their business before you see them in the Tank!
Wine & Design is a unique take on social learning. They've developed an entire business around using the talents of local artists to give people in the area an experience that is fun and educational.
The environment is BYOW or "Bring Your Own Wine" and I will get back to that in a second.
And you go through the process of learning to paint a specific image with one of the artists that they have contracted to teach classes at that location.
THE MORNING EMAIL
Start your workday the right way with the news that matters most.
It is so simple and easy to follow. They outline the design for you prior to your arrival, they walk you through the color mixing and the proper ways to texture your painting. It's expertly guided every step of the way so that you can just focus on having fun with it. I am absolutely hopeless with any kind of artistic tool…well except maybe a camera…and I was able to create something that was somewhat recognizable.
I'll show you guys in a bit what I ended up with.
Anyway, I do want to talk a bit about the wine aspect of the business.
At first, I wasn't sure how I felt about the whole BYOW concept.
I figured, "Why do I need to do that kind of prep before coming to their class? Why can't they have wine available to purchase there?"
However, as I thought about it and then experienced the class for myself, several things came to mind and became more clear.
First of all, licensing for the sale of alcohol, even if it is just wine or beer, can be expensive and carry with it a multitude of responsibilities and liabilities.
Allowing people to bring their own beer or wine carries with it a much lower risk and cost to the business.
As well, when I observed the class itself, I heard several conversations break out over the different kind of wines that showed up.
For at least the first fifteen minutes of the class, the room was filled with questions of:
"What kind of wine is that?"
"Where did you get that?"
"Do you mind if I taste that?"
By requiring the patrons to bring their own wine, it creates a social culture and additional interaction within the classes that you wouldn't have if the business itself sold the wine.
Anyway, I think I will go ahead and wrap this up, but before I do I want to show you the beautiful work of art that I was able to create with Wine & Design!
I know…it's really nothing to be all excited about…but it's definitely better than what I thought I could do.
So I just want to say thanks to Bailey and Chris over at the Myrtle Beach location for Wine & Design! The experience was fantastic and I would love to join them again for another class at some point!
And don't forget to catch Wine & Design's presentation on Shark Tank this Friday at 9PM Eastern Standard Time. As well as my coverage of their presentation the following Monday right here on the JeremyJasonA channel!