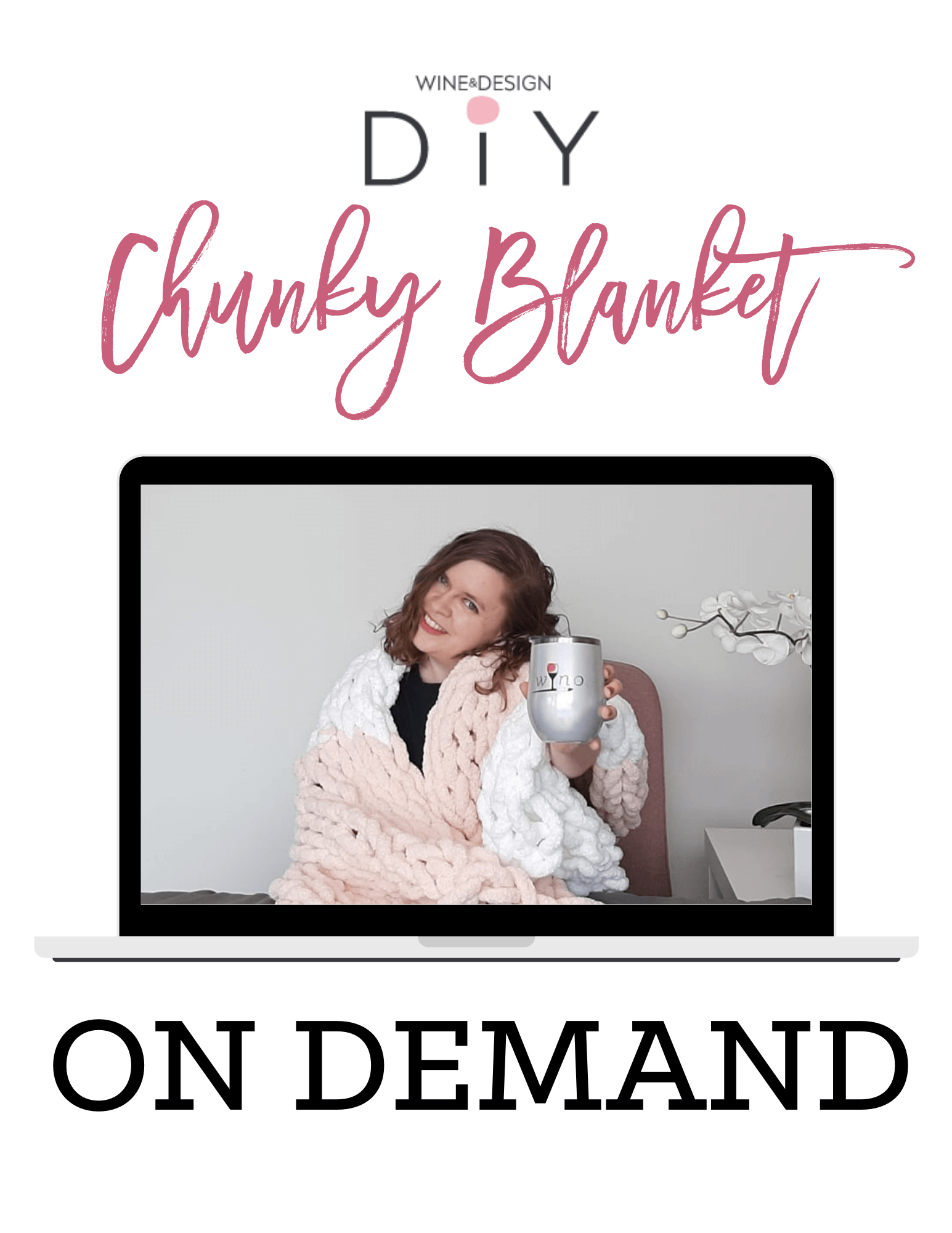 Chunky Knit Blanket On Demand Class
Join us for a fun virtual knitting pARTy! No artistic talent is needed as we'll guide you step-by-step through this On Demand virtual blanket making party!
Description
"Take Class Anytime! Our best-selling Chunky Blanket Workshop is now available ON DEMAND! We will show you how to hand knit - no tools required - your very own chunky, cozy blanket - no prior experience required!

This is a 3 hour workshop but with On Demand, you can start & stop the video at your leisure, and YES! Your blanket will be finished at the end! Pick up your Wine & Design yarn or grab a snack and, of course - some wine - and join us for this virtual event!" "Get Your Art Buzz On creating your chunky blanket with Wine & Design from the comfort of your home! No artistic talent needed, just the desire to have fun!

Includes 6 skeins of yarn (choose your colors) plus prerecorded video tutorial which you may watch at any time.

We take the time to guide you step by step virtually via pre-recorded video tutorial to complete your very own chunky blanket.

Yarn Colors: We generally have the following colors to choose from. Colors include: Black, White, Ivory, Honey, Mustard, Silver, Dark Gray, Aqua, Teal, Sage, Olive, Sky Blue, Navy, Light Pink, Lilac, Cranberry & Red.

NOTE: Please list color choice(s) in the Special Instructions Box at checkout. Colors are not Guaranteed, but we make every effort to accommodate all requests. Please allow 24 - 48 business hours Monday - Friday for our team to construct your kit.

All Sales Are Final. If you have any questions please call or text the Studio at 540.809.0899 or email us at [email protected].