RALEIGH'S WINE & DESIGN FEATURED ON 'SHARK TANK'
Posted on by admin
Originally posted by ABC 11 News:
RALEIGH'S WINE & DESIGN FEATURED ON 'SHARK TANK'
Raleigh's Wine & Design will be featured on Shark Tank (WTVD)
Friday, May 12, 2017 05:12PM
RALEIGH (WTVD) —
Friday, the season finale of Shark Tank features two Raleigh entrepreneurs. Harriet Mills was 7-and-a-half-months pregnant when she and her husband Patrick went on the show to pitch their business Wine & Design.
"It's going to be very interesting," said Harriet. "They saved us for the season finale for a reason."
And they got a good reception.
"When I told them we were over 70 locations at this point, they fell back in their seats. They said they never had a franchise system come up on their show with that many units and being that successful. And they were impressed," she explained.
Every night of the week – in locations all over the country – people get together to sip wine while a teacher walks you through how to do a painting in a 2-hour class.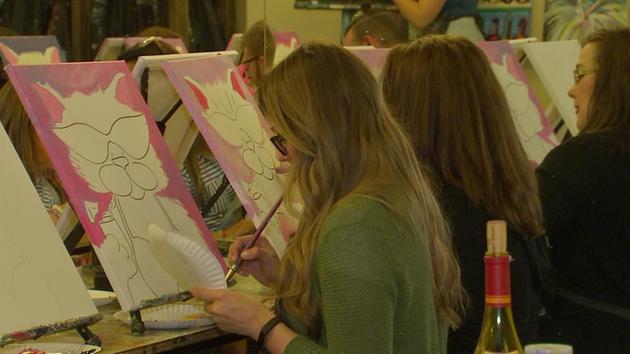 Wine & Design
But Harriet is ready to take her business to the next level, so she emailed Shark Tank producers and they invited them into the tank.
Harriet and Patrick pulled out all the stops, even unveiling a new type of art class right there to the sharks.
"We have a division that's a little bit more risqué. When we put this on Shark Tank, their reaction was 'Oh my gosh', they were yelling to the producers 'Oh my gosh I can't believe you're doing this, this is crazy' and all I could do was laugh because it was funny to see their reaction.
So will it be enough to get a deal? The show airs at 9 p.m