N.C. entrepreneur cuts a deal on 'Shark Tank'
Posted on by admin
Originally featured on biz women.
N.C. entrepreneur cuts a deal on 'Shark Tank'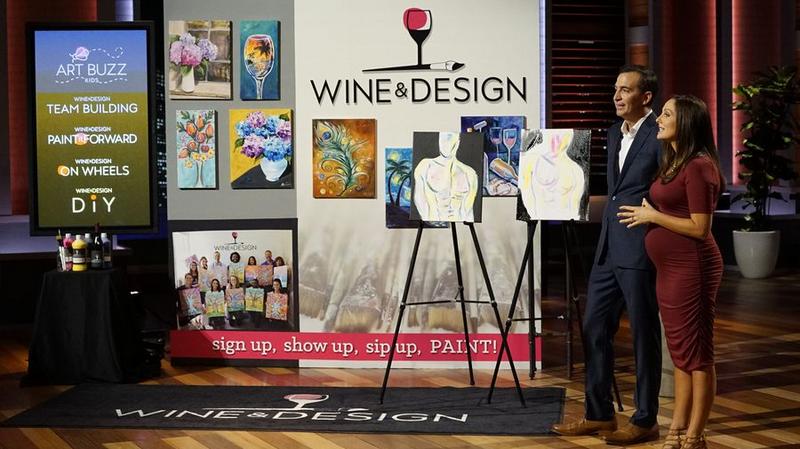 ABC/Kelsey McNeal
A husband and wife duo from Raleigh, North Carolina, surprise the Sharks when they bring a party atmosphere and a nude male model into the Tank to show how their franchised art studios work.
A nude model, a pair of Raleigh entrepreneurs and an equity stake: ABC's entrepreneurial pitch contest 'Shark Tank," featuring Wine & Design founders Patrick and Heather Mills, made for a memorable Friday.
Instead of just pitching the numbers to ABC's "shark" investors, the pair behind the wine-and-sip franchise brought out "Richard," a model who — to the surprise of the "Sharks," completely disrobed. It's a bachelorette party, Mills explained onscreen amid shocked faces.
"Does Richard come with every party?" Shark Lori Greiner asked.
See Also
The Mills' left the stage with a new backer: "Mr. Wonderful" Kevin O'Leary.
"I know we made the right decision," Heather Mills says, minutes after the episode aired from her watch party in downtown Raleigh, N.C.
Already, sales are up — as is franchise interest, she says. During the episode, she exchanged text messages with O'Leary, who she says is "all in" when it comes to Wine & Design.
The sharks couldn't help but note the uniqueness of her pitch.
The entrepreneurs got down to business, telling the sharks how Harriet Mills got the idea when attending a wine-paint party six years ago.
Within 60 days, she had a business. And, by the time she met the sharks, it had accumulated 74 franchisees.
In its first nine months, it had snagged $250,000 in sales, they told the sharks. The company was on track to make $10 million in annual sales, they said.
"We've done over $24 million in gross revenue from all the stores," Patrick Mills said.
In addition to a $25,000 franchise fee, franchisees pay six percent in royalties, they told the sharks.
The pair initially wanted $500,000 for a 10 percent equity stake — a valuation labeled as "way off the charts" by shark Barbara Corcoran. Within minutes, the only sharks remaining were O'Leary and Robert Herjavec.
O'Leary wanted to know if the Mills' would consider selling outright.
"Everything is for sale," Harriet Mills said onscreen, adding that she thought the company was growing "too slow."
"We do have a lot of competition," she told the Sharks.
O'Leary made the first offer: $150,000 for 10 percent equity. He added on a $350,000 loan "as a line of credit" at 12 percent.
And he pledged to deploy his "social media cannon" in leveraging the business.
Herjavec offered the $500,000, but for a third of the business.
What the cameras didn't show, Mills says after the episode airs, was the full decision process. When Herjavec's competing offer came to light, "my husband and I actually walked in the hallway and discussed it."
"It was a hard call," she says, adding that she has "no regrets" and looks forward to continuing to grow the business from Raleigh with O'Leary.
And O'Leary seems satisfied with the choice.
As the show aired, he tweeted his enthusiasm: "This one is going to be BIG! I can't wait to work with @WineAndDesignHQ!"
Lauren Ohnesorge covers information technology and entrepreneurship.