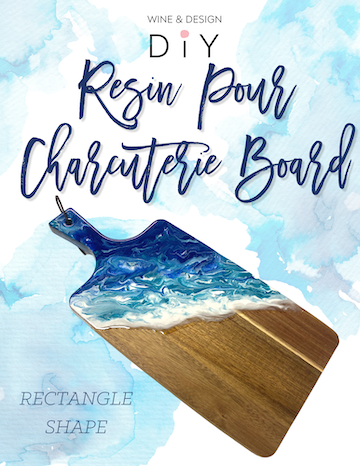 Sold Out! RESIN POUR CHARCUTERIE BOARD | PEACOCK WINE BAR 1525 N Gilbert Rd, C108
Sun. Jun 25 - 11:30 AM
2 hours long
All events are non-refundable
Artist: Anita Lopez
Queen Creek, AZ
1525 N Gilbert Rd, C108
Gilbert, Arizona
Description
NEW! PERSONALIZED RESIN POUR SERVING BOARDS

Enter the last name you want to be personalized on the board in the "SPECIAL INSTRUCTIONS" box at checkout.

SAY YES TO THE MESS and get your Art Buzz with us at Peacock Wine Bar! No artistic talent is needed, just the desire to have fun! Learn the methods and steps to create a beautiful RESIN POUR masterpiece. Do you want to add a matching coaster set? Add those to your order!

Payment is required at the time of registration. If you cannot make your payment online, contact us to register with other payment options otherwise your seat(s) is not guaranteed. This is a SPECIALTY class (coupons are not valid). Contact Info | 480.987.5656 | [email protected]

*Cancellation policy: Due to the nature of our business, we do not offer refunds. Since this particular project is personalized, if you are not able to attend the class, you will be able to pick up the laser-engraved board. We do not offer this type of class as a take-home kit. If you are not able to attend the class and would like for us to complete your project for you, we can make arrangements with you for an additional fee. Please contact us prior to class to make this arrangement.

A minimum of 4 guests is required to hold this event as scheduled. If the event needs to be canceled or postponed, you will be contacted on the DAY OF THE EVENT and given a CREDIT in the full amount of the class that you paid for use on any future event. We ask that you use that voucher within 90 days of issuance of the credit.



I, the undersigned, understand that Resin Workshops & classes use resin, a solvent that emits fumes while working and as it dries. I understand that every precaution has been taken by Wine & Design, including ventilation and proper safety gear. WAIVER OF LIABILITY: The participant, on behalf of himself or herself, and all agents, employees, assignees, administrators, or executors, hereby releases, discharges, and waives all claims of liability against Wine & Design Queen Creek for any injuries, damages, or loss of any kind that might be sustained while participating in the Resin Workshop & Class, or for any health condition, new or preexisting, that might develop or be affected or aggravated as a result of participation. We cannot reduce or waive these terms in the event of circumstances beyond our control such as illness or acts of nature. The Institute assumes no liability for any injuries, thefts, losses or illnesses incurred by participants during or as a result of participating in a workshop or class experience.